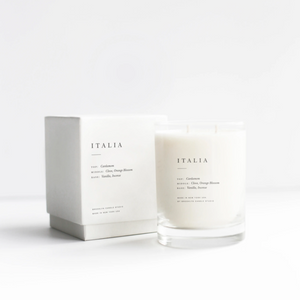 Dashes of exotic spices in a bustling Italian pasticceria inspired this fragrant blend of cardamom, vanilla, clove, incense, and orange blossom.
Size: 13 oz.

Burn time: up to 70 hours
Double Wick
2-Piece Rigid Box
Made in the United States
From Brooklyn Candle Studio:
"Our Escapist collection takes you to our favorite places in the world, places we've traveled to that have a permanent place in our olfactory memories. Double-wicked and housed in white textured boxes and screen printed glass tumblers, this collection will tug at the heartstrings of minimalists around the world."